Following the requests of a great many users, the Arobas Music Artistic Team has concocted a selection of professional-grade presets for you to install into Guitar Pro 6. From Jimi Hendrix to Led Zeppelin or Iron Maiden, enjoy the sounds of legendary guitars when you play or write your music scores.
How do I install new Presets in Guitar Pro 6?
1. Click on the image to download the Presets folder

(Zip file – 17 KB)
2. Go to the Guitar Pro 6 "Preferences"
On Windows/Linux: menu File > Preferences > Open the Presets directory
On Mac: menu Guitar Pro > Preferences > Open the Presets directory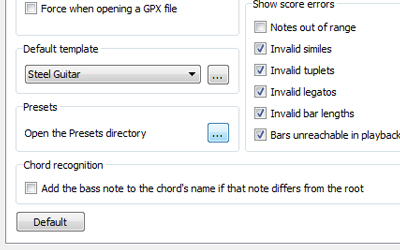 3. Copy & paste the content of the Presets folder into the My Presets folder.
4. Load up your new Presets.
On the Effects panel, roll down the menu located above the effects chain, then choose Load user-defined preset.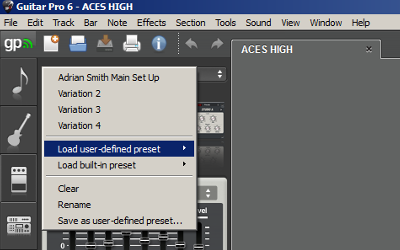 Enjoy your Presets!
List of Presets
Jimi_Hendrix-Lead_Echoplex.preset
Jimi_Hendrix-Lead_Wah.preset
Jimi_Hendrix-Little_Wing-Clean.preset
Jimi_Hendrix-Little_Wing-Clean_Leslie.preset
Jimi_Hendrix-Little_Wing-Lead.preset
Judas_Priest-Lead.preset
Judas_Priest-Rhythm.preset
Led_Zeppelin-Hot_Drive.preset
Led_Zeppelin-Soft_Drive.preset
Maiden-1.preset
Maiden-Lead-1.preset
Maiden-Lead-2.preset
Nirvana-Distortion.preset
Rory_Gallagher-Lead.preset
ZZTop-Overdrive.preset
You may also like
17 new GP6 Guitar Presets to download
GP6 Presets – Guns N' Roses' Guitar Sound in "Don't Cry"
GP6 Presets – Lynyrd Skynyrd's Guitar Sound in "Simple Man"