Guitar Pro artist Julien Bitoun is happy to bring you this extract from his "South Bank Sunrise" Country/Blues-style solo. You can discover it in video and download it in tablature.

South Bank Sunrise – solo.gpx (free to download)
Presentation
From the first notes of the solo, a succession of half-stop bends will put your technical precision to the test (playing on the tone and higher half-tone on the B string).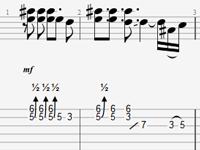 Starting on measure 3, you get to combine the legato technique with slide playing on a pentatonic blues scale. Make sure to seek fluidity between each note in that part of the exercise.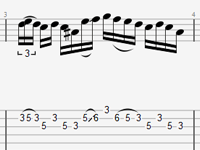 More generally, seek to maintain dynamism as you play so you can stick to the Country-music spirit. Accordingly, select a clear, twangy "Telecaster-like" sound.
About Julien Bitoun
Whether as the brains behind the J. Merrick project, as sideman or just as band member, Julien "Beurks" Bitoun leaves his stamp both on electric and on acoustic guitar, in a style that is at the cross-roads between Roots rock, Country, and Folk music.
"Guitar Pro saved my life: as a journalist I had to write music scores even though I had no background in music theory, and I actually learned it by editing sheet music with Guitar Pro. It also constitutes an excellent tool to work music by others, and to steal their tricks!"