Did you think you knew all about Guitar Pro 6, its hidden features, its keyboard shortcuts? Discover the "Guitar Pro 6 Tutorials" Youtube channel and learn new techniques for you to read and edit your tablature scores more easily. This first video series focuses on writing and editing drum parts. Good luck!
Start the lesson
[Click on the image to launch the video series]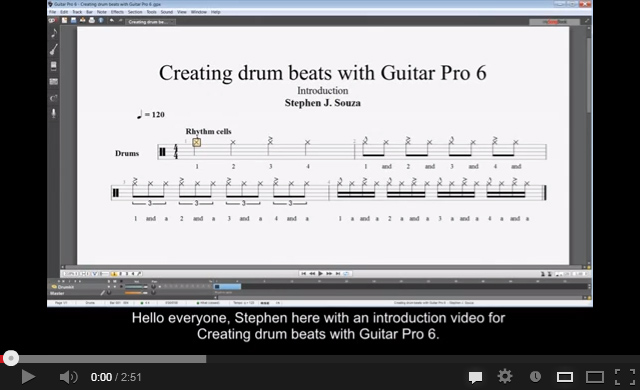 Lesson presentation 
The series of 8 videos and 5 chapters is packed with original ideas meant to inspire. The Introduction video is intended to be an overview and offers some tips and advice to help you get the most out of this video series. We asked Stephen the following questions and here is what he had to say.
Why did you create this series of videos?
I created this video series to help others learn how to create expressive drum beats from scratch using Guitar Pro 6. In addition, I wanted to share some of my original tips, tricks and concepts that I have developed.
What will someone learn who watches this video series?
In these tutorials you will learn you how to:
Notate a basic drum beat from scratch using the Guitar Pro 6 drum editor.
Work efficiently using cut, copy, paste and shortcuts.
Enter notes by clicking on the drum voices and by the associated number.
Separate drum sounds into different voices and tracks for flexibility.
Create your own original drum beats using basic rhythm patterns.
Use accents and ghost notes to bring beats to life.
Add accents to triplet and sixteenth notes.
Use my basic rhythm cells for efficiency.
Alter beats with accents and changing beats to rests.
How to count beats.
Make subtle changes to create variety and interest.
Do you have any tips and advice to get the most out of this video series?
Take your time, be patient and don't rush.
Remember we all had to crawl for some time before we could walk.
Follow along with me stopping the video as often as necessary.
Master and apply each concept to create your own original sound and style.
Try to notate drum beats from your favorite artists.
Try to notate drum beats that are in your head.
Use the rhythm cells as your staring point.
Practice, Practice and more practice.
Is there anything else you would like to add?
One of my goals in life is to help and inspire as many people as I can to find their own individual voice as a musician. It is my hope that this video series gets me closer to that goal. If you have any questions or need help, please leave a comment on my FaceBook page. Study, practice and apply all that you learn.
About the author
A Guitar Pro artist, Stephen Souza is the founder of the progressivemusician.com website. He has been studying music and playing guitar for more than three decades. Guitar Pro 6 is among his favorite guitar tools he uses to transcribe and notate music. You can download his "Diablos Dance" tab off his artist's page or visit his Youtube channel to discover other tutorials.
You may also like
GP6 Lesson – A drummer at home, how is that possible?
20 Guitar Pro 6 Drum Patterns to Download for Free