The Boogie Dance is a composition by Ton Van Bergeyk, Ragtime and Picking specialist. This version of "The Boogie Dance" is unusual because of the tuning necessary. You will have to go down a scale with E, B, D, G, D, A and one and half scales with low E.
This method of tuning will add colour to your music that will remind you of the old saloon pianos that were never well tuned.
If you find the tuning difficult, simply go down from low E to D. The advantage of having the chord E tuned to C is that on the base, C is played open for almost the entire piece. This will avoid awkward chords and will make it easier for you to play the melodic part of this piece.
This article has been presented by Jérémy Cauliez, transcriber for mySongBook.com. 
The tab

"Ton-Van-Bergeyk-The-Boogie-Dance.gpx"
(click on the image to download the Guitar Pro tab)
Although the piece isn't very difficult, it is however, very long and arduous to memorise. Take your time to properly assimilate each measure.
This unusual tuning may destabilise you at the beginning, especially when executing bends, as chord tension will be lower. You will need a little time to find the correct bends.
It will also be beneficial to work on some delicate measures, in isolation, so that you don't get stuck and stop progressing. The measures 43, 44, 47 et 49 are to be practised individually, for you to be able to properly feel the rythmic subtleties. Please don't hesitate to use your Guitar Pro metronome to help you play in rhythm.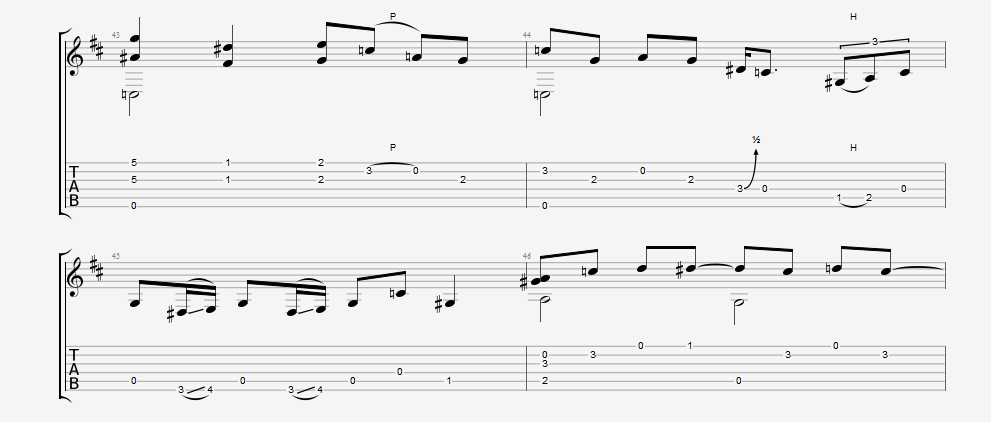 I hope that you will enjoy learning and playing this ragtime piece and that it will also have allowed you to discover another facet of guitar picking.
See you soon!
About the author
Jérémy Cauliez started playing the guitar with various Rock bands. After a year at the Valenciennes CMA school (Centre de Musiques Actuelles – France), he created the gypsy Jazz band "Manaswing" with Eric Legrand and Yann Gérardin. 6 years of playing live and one album followed.
Jérémy then decided to turn to Fingerstyle and Picking. He has been writing arrangements for mySongBook since February 2012.