Hello and welcome to the first edition of my Guitar Pro Tips and Tricks Tutorial, the fact that you've clicked this page tells me you want to take your Guitar Pro skills to the next level, and I humbly suggest you've come to the right place!
Allow me to introduce myself, my name is Levi Clay, and for the last 6 or so years I've made my living as a transcriber (running my own business); meaning I listen to music, and write it out for publication. Outside of work for private clients, I've been the in house transcriber for LickLibrary.com and Guitar Interactive Magazine, and have also completed plenty of work for Premier Guitar Magazine, Guitar Techniques Magazine, Axe Magazine, JamTrackCentral, TexasBluesAlley, LearningGuitarNow, and many more.
During my formative years, I offered delivery of work in many formats, but as time went by I've moved exclusively to Guitar Pro 6 for work as the speed in which I'm able to work there isn't even close to possible in something like Sibelius. When you're transcribing for at least 6 hours a day, you need to get as much written out as possible, and Guitar Pro offers that!
Below is a 90 minute live stream, recorded live September 8th 2016 on the Guitar Pro Facebook page.

This first tutorial focuses on the setup of files, along with mastery of hotkeys to speed up input and reduce the risk of any work related injuries.
When I began working professionally, I was using a laptop with a trackerpad which meant a lot of going between guitar, trakcerpad, and QWERTY keyboard. After a couple of years, I began to notice stiffness in my right wrist which now causes constant discomfort, especially when it's cold! I want you to avoid these problems, so I'm going to recommend working on a system with a number pad on the keyboard, and if you don't have one (maybe you're working on a laptop) I'd consider picking up a USB number pad.
Outside of this, the main skill that's virtually essential to develop is the use of hotkeys/shortcuts, which will minimize the use of the mouse, and therefore cause less strain on the wrist.
1. First though, let's look at opening up Guitar Pro, and setting up a file.
The first step when opening the program is to create a file and put in the instrument(s) you'll be working with. This can be done with the following path – File > New > Empty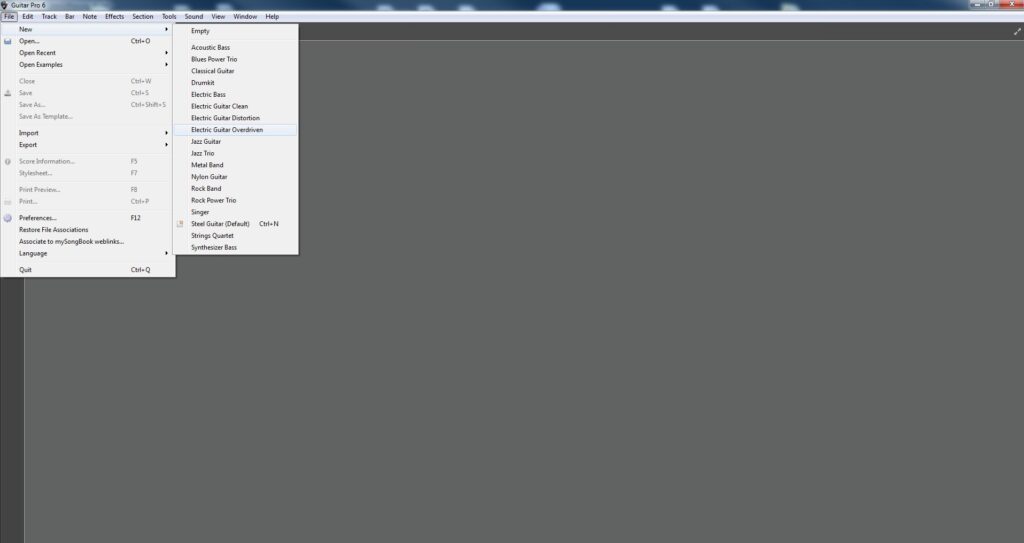 You'll now have a blank score, along with a Score Information window. This can be filled out, or skipped at this stage as it's easy enough to come back to later at the press of a button!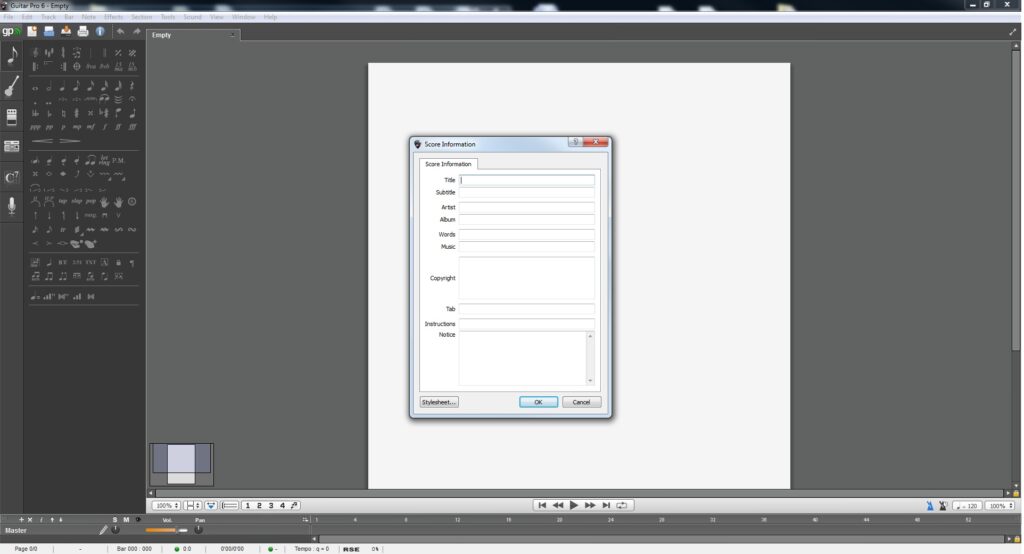 From here, there are several ways to add tracks to your score, either by clicking Track > Add (in the main navigation bar), the hot key Ctrl+Shift+Insert, or by clicking the plus sign located in the bottom left of the score (as indicated below). This will bring up the Select Your Instrument window, where you're able to select the instrument you want to begin working with, from guitars to singers. You're also able to name this track, give it a short name, decide if you want standard notation, tab, or slashes to display, and even change the color of the track in the mixer.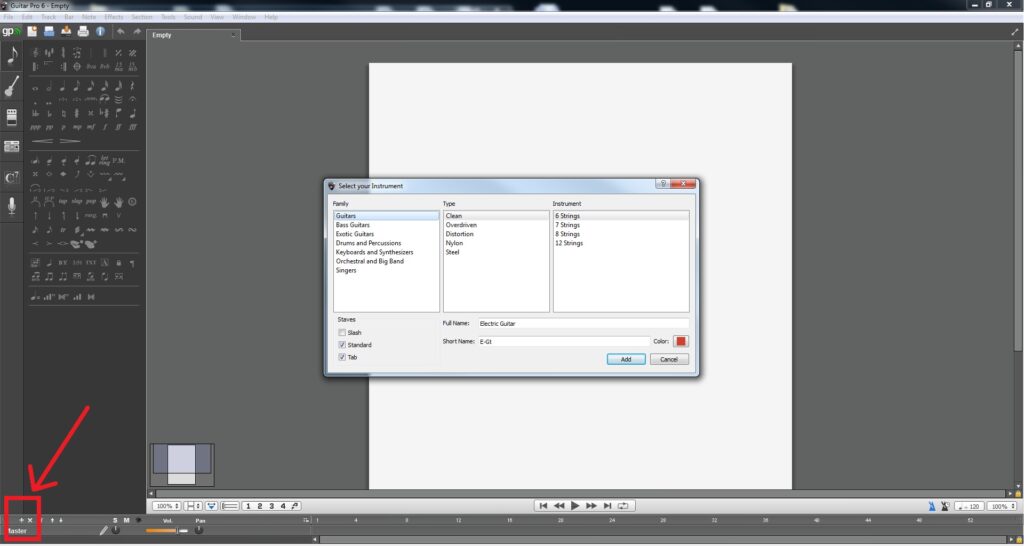 I've created a track with overdriven guitar (definitely the best choice for rock guitar!), but I don't like the way this leaves you with an indentation to the left of the score, so this leads you to the Stylesheet to fix it. This can be be accessed by File > Stylesheet, or the hotkey F7.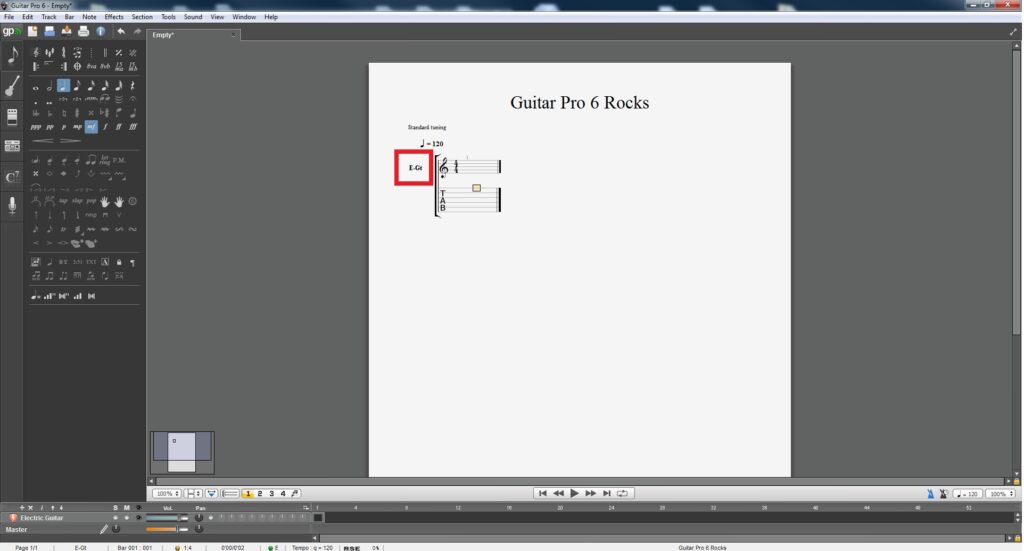 2. The Stylesheet Menu
The Stylesheet menu is an incredibly important part of creating a unique look to your scores. Take some time to look through all of these menus and get to grips with what these options offer. I automatically go to Systems & Staves and untick the First System Indentation box to remove that indent from before. There are numerous options to be found here and played with, so experiment with global score proportions, the notation tab options, and even changing the fonts and sizes of text and numbers in the Texts & Styles section.
I do have my own house style I use, this has been saved using the Save Style button at the bottom, so I'm able to just load it up when I start a new score.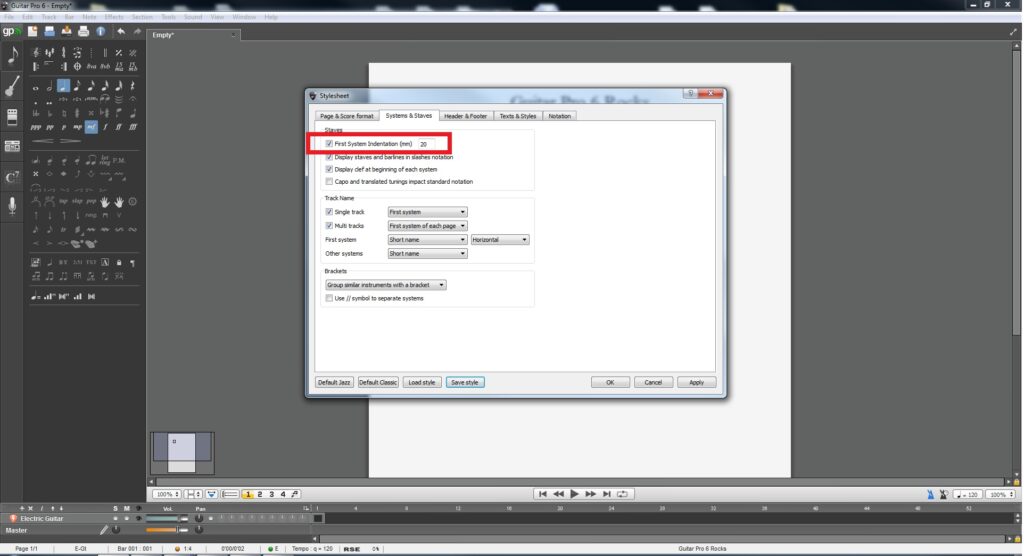 Now you're ready to start inputting notes, it's time to take a look at notes tab on the left of the screen.
3. Inputting notes
Inputting notes is simple, just click on any string in the tab on your score, and press the number you want, such as 5 on the A string. From here the mouse isn't needed for me, I'm able to press the right arrow key to move to the next note and press 8, then move right, and up to the D string and input the number 7 and so on.
Having access to these arrows in my right and thumb, and the numbers with the right hand fingers means you're able to input any note without putting the wrist under any stress.
In order to change the rhythm of notes, this needs to be done as you go, as once a bar is complete, the program will automatically move onto the next. In the second section of the notes tab on the left, you'll see a selection of note values, and it's possible to input a note on the tab, then click on the rhythmic value you need it to be, but I would urge you to become familiar with the + and – hotkeys which will increase of decrease the note length on the fly. I have access to both of those keys using my 3rd finger on the number pad. So it's not possible to input anything I need to without clicking the mouse.
It's also possible to click and drag to highlight many notes (or use shift and the arrow keys) and change multiple notes at once. If I were to highlight my first bar and press the + key, then all the notes would switch from quarter notes to eighth notes.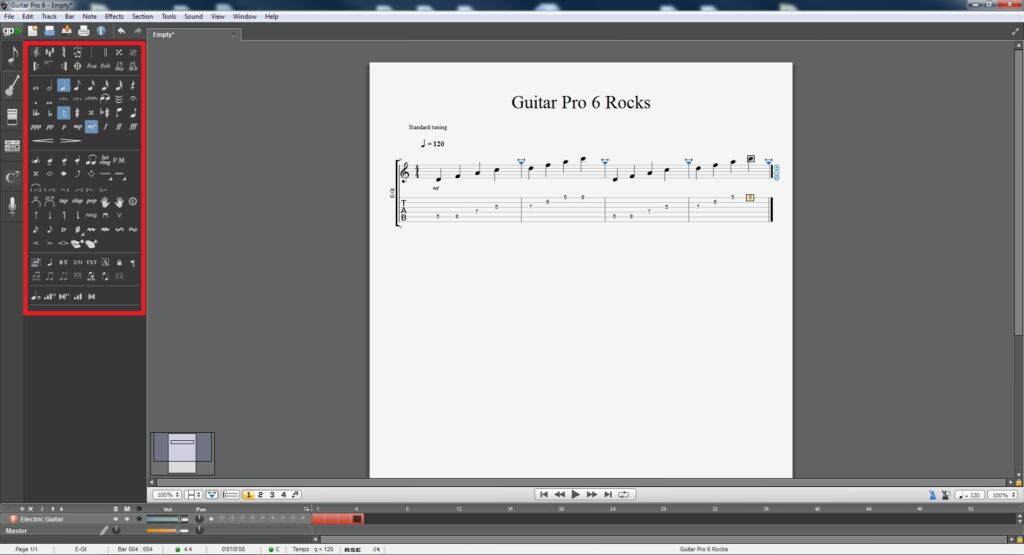 4. Tab the following lick
Below is a simple lick I've written out, I would suggest trying to input the same into your software to test out the things we've talked about so far. As a reference, this took me 17 seconds to write out (yes… I timed myself!), I wouldn't expect you to be that fast, but when compared to the 54 seconds it took me to write the same thing out using the mouse to click note values, there's room for improvement. I guess this makes me the shredder of the transcribing world?

I've also included the gpx file I did this in so you can take a look at it and edit it as you see fit – check out the stylesheet by hitting F7!

"Guitar Pro 6 Rocks.gpx"
(click on the file icon to download the Guitar Pro tablature)
Now while the stream does continue on from this point, doing some live Q&A with people, the take home concept is this note value input, but if you're wanting to dig further, try looking through the symbols on the left hand side of the page, hover over them and you'll be told what the button represents, and (most importantly) the hot key for that function.
As an example, if I look at the trill button I know I only need to press "n" on a note to add this effect. A bend can be applied with "b", a slide can be applied with "s", a palm muted note just requires "p" etc.
If you have any questions, drop them in the comments box below, and I'll do my best to answer them for you!
Until next time!
– Levi