Guitar Pro version 7.5.1 is online. Among the most anticipated new features, we bring you the new display of tempo when you play a score in screen mode and compatibility with Fretlight Wireless guitars. Install this new update to take advantage of the new features.
New features :
Compatibility with Fretlight Wireless guitars – Fretlight and Guitar Pro have teamed up to bring you the synchronization of your tabs' content with Fretlight Wireless guitars. Designed for beginners, Fretlight guitars facilitate the learning of a song by lighting up LEDs on the fretboard to indicate where to place your fingers. Our iPhone and iPad application is also compatible with Fretlight Wireless guitars. Click here to find out how to connect your Fretlight guitar to Guitar Pro.
You will need Bluetooth 4.0 or higher to connect your Wireless Fretlight guitars to Guitar Pro 7.5. You may read these articles for Windows and macOS to check if you meet the minimum requirements.
Exclusive offer to Guitar Pro users:
Save 15% on your Fretlight Guitar 🎸🎶
For a limited time,
visit the Fretlight Guitars website
and enjoy a 15% discount on any NO SALE PRICE Fretlight guitar with the following coupon code:
FRETLIGHTDISCOUNT15%
(it expires September 30, 2018).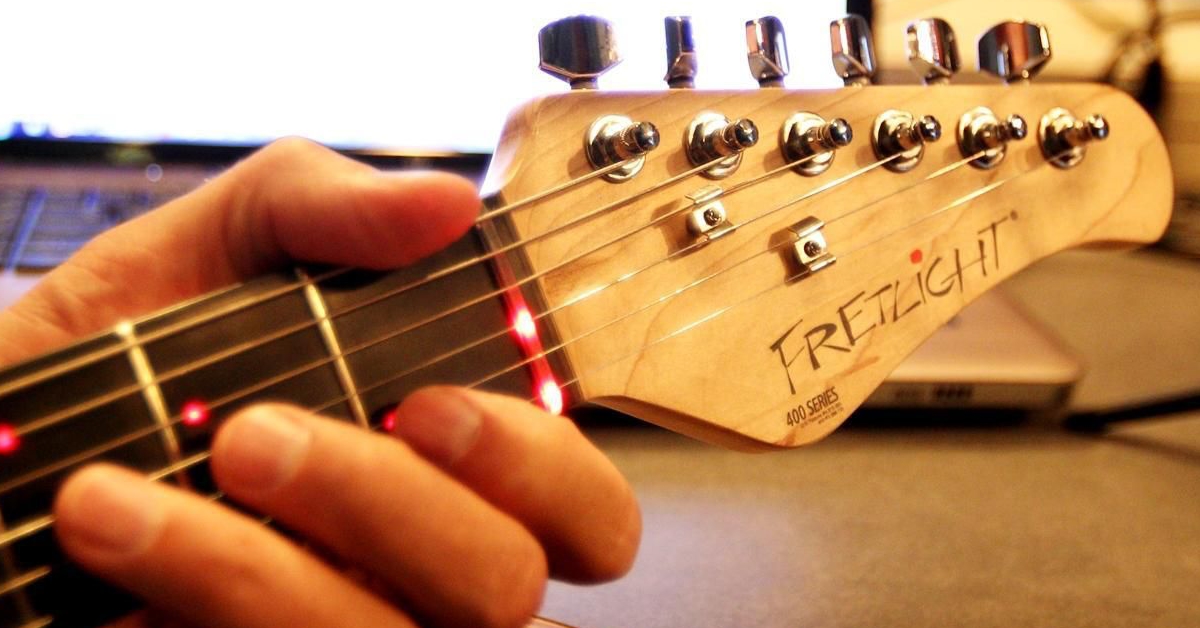 Fretlight is the only guitar that shows you where to play
Tempo display in screen mode – Located at the top of your Guitar Pro 7 window, the toolbar allows you to adjust the display of your score with the View mode button. Select either Vertical or Horizontal Screen view to have the tempo displayed on the score, and change it by simply clicking on the item.
Free tab of the day available in the Examples menu  – To facilitate accessing the mySongBook free tab of the day, a direct link is now available in the menu File > Open Example. The tab of the day is displayed first.
"Pop" et "Slap" parameters added to XML export – Pop and slap playing effects are now handled when exporting and importing an XML file.
New option to remove a single file from recent files – The Guitar Pro 7 home screen shows the list of recent files opened with the software. You can now remove a single file from that list by right-clicking on your mouse > Remove from this list.
Fixes and enhancements:
Improved rendering of legato slides
Improved management of alternate endings
Double-clicking a volume button reinitializes it to 0dB
Save of the "View" option of the instrument view
Fixed bends height on MIDI export
Fixed sometimes off-set audio export
Fixed voice change/inversion tool
Fixed sound issues with AirPod earphones
Fixed conflict with bends' inking points
Fixed undo/redo of bar deleting actually emptying the following bar
Fixed count-in with anacrusis
Fixed import of progressive tempos in .gpx files
Fixed sometimes defective focus in the inspector's frames
Fixed regression leading to octave-shifted percussions when MIDI importing
Fixed incrementation of the speed trainer
Various corrections of XML import
Various crash fixes
How to update Guitar Pro
Launch the updater to start using Guitar Pro 7.5.1:
Windows: menu Help > Check for updates…
macOS: menu Guitar Pro 7 > Check for updates…