Hendrix's songs are rarely tackled when you start playing guitar because they are often very difficult to play. These 5 easy-to-play lead guitar licks will allow you to handle his style without too many major difficulties.

This is also intended for teachers who would like to introduce their beginner students to the immense guitarist that Hendrix was. Also, discover what makes his style so special.
When you take a look at Hendrix's track recordings, you are quickly impressed by his unique technique and the complexity of his blues/funky rhythms.
Here is an example with the song "Little Wing" : (complete sheet music available on mysongbook.com)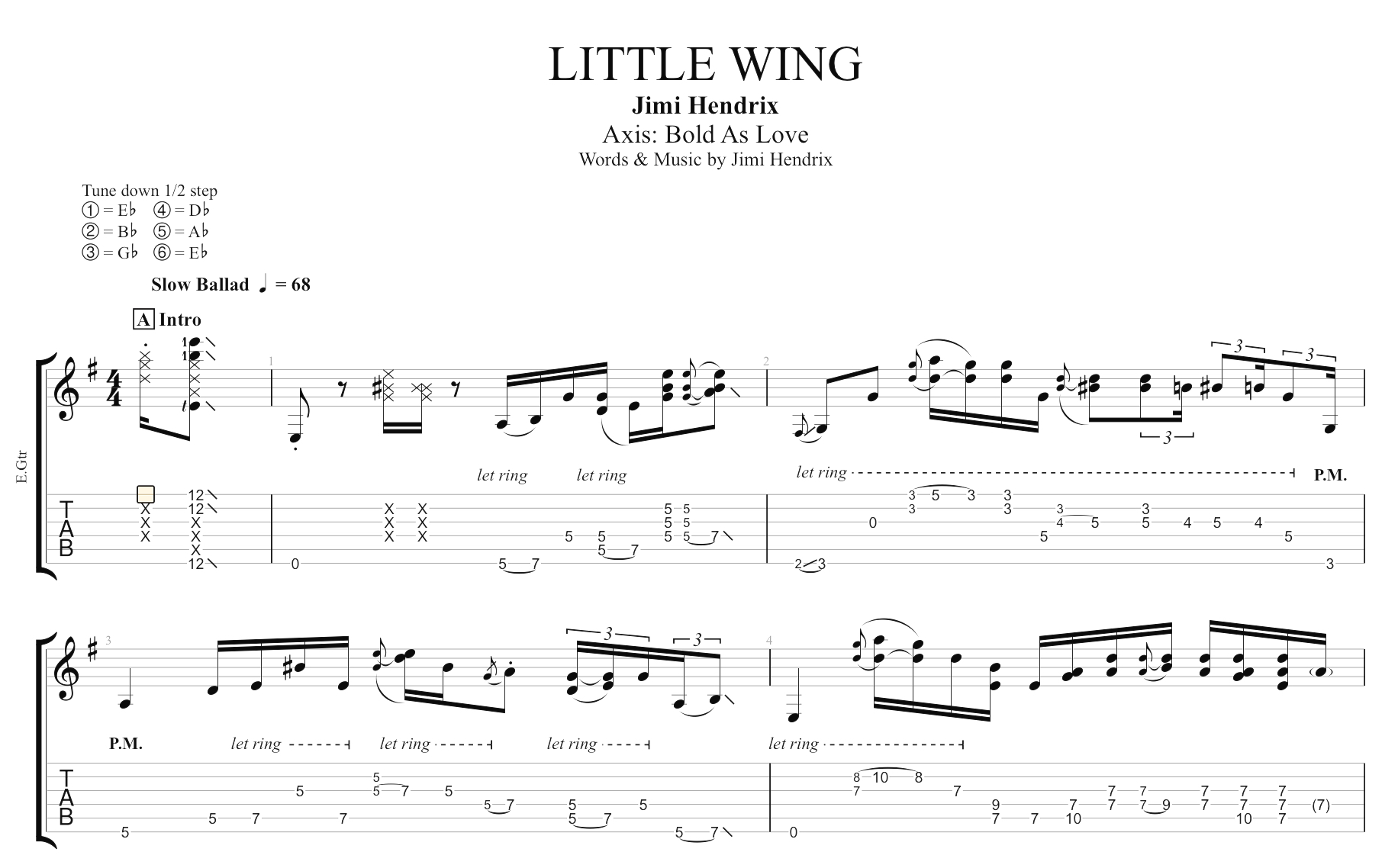 We offer you 5 easy-to-play lead guitar licks with some of the most used playing techniques by Jimi Hendrix. Download these 5 free exercises and learn your first licks in the style of the guitarist still considered the best in the history of music.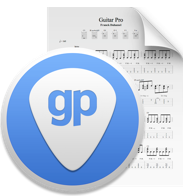 "5 easy licks in the style of Jimi Hendrix"
(click on the image to download the .zip file for Guitar Pro 7)

"5 easy licks in the style of Jimi Hendrix"
(click on the image to download the .zip file for Guitar Pro 6)
Lick 1
We start slowly with this easy first lick based on a sequence of three chords: E7, G, and A. The first bar is a nod to Hey Joe with a one-tone glissando, so you have to slide from the 3rd-fret to the 5th-fret with the ring finger.
Here is an excerpt:

Lick 2
A bit more complicated with this blues lick where we will work on a series of chords made famous by Hendrix. The difficulty will be to succeed in linking the chords and notes alone while respecting the tempo.
Here is an excerpt:

Lick 3
You will face here a more complex funky/blues rhythmic. The bass is isolated from the rest of the chord and then chords and dead notes are alternated irregularly. To play these chords you just have to move the same pattern.
Here is an excerpt:
Lick 4
This lick must be played this time with a clean sound, it's a little nod to the song "Little Wing". You must play the arpeggios using the very special Hendrix style with hammers and pull-offs. Feel free to extend the index finger (barre chord) on the 4th-fret in the second bar.
Here is an excerpt:

Lick 5
This time it's about working on a solo at a slow tempo. You can use the second track as backing track.
Here is an excerpt:

How to play the Jimi Hendrix way?
It is necessary to learn to use the thumb on the fretboard: Jimi used the thumb of his right hand to do a moving base line whilst chording.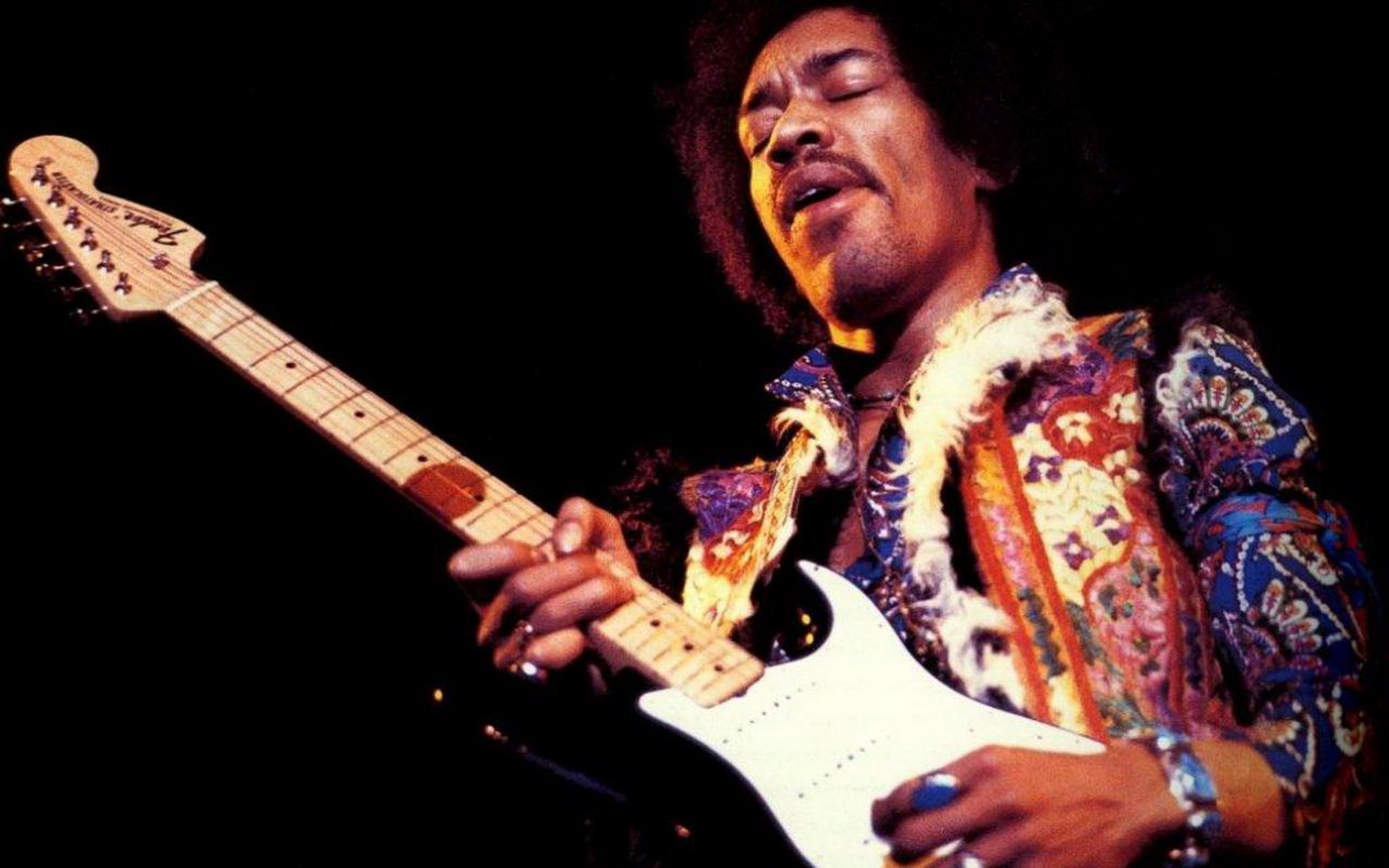 Why use it in this way?
First of all to avoid barre chord and be free to move the other fingers. Jimi loved to play arpeggios using hammer-on and pull-offs.
This also allows to add open strings in usually closed chords such as F major for example: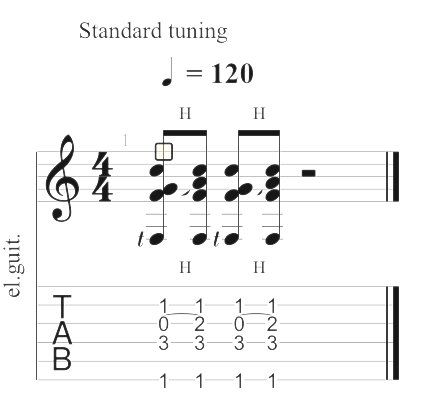 Jimi also used his thumb to have more support for playing his bends and vibratos or to block the bass string whilst chording.
Set up your fingerings display in Guitar Pro 7.5:
You can change your fingerings for right and left hand in Guitar Pro. To do so, click on the File menu > Stylesheet… > Notation > Fingerings section.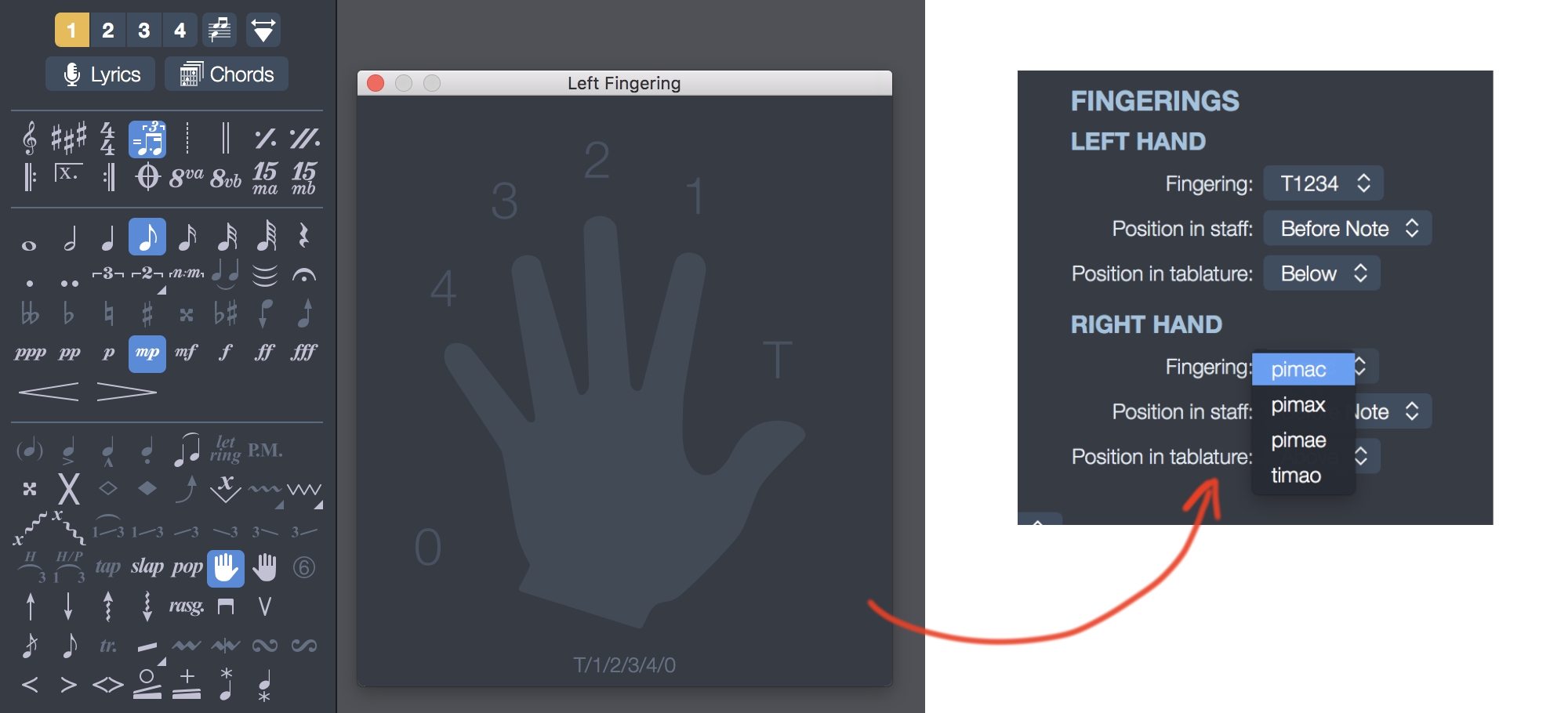 You have to know and master the "Hendrix chord"
This chord popularized by Jimi is E7#9, a dominant seventh chord with increased ninth. It is used, for example, in the rhythmic accompaniment of Purple Haze.
You can have fun moving this pattern around the fretboard with different rhythms.
See licks 2 and 3.
It is necessary to play your accompaniments in arpeggio and use pentatonic scales
Jimi didn't just tackle the chords, he preferred to play them in arpeggio with ornaments, i. e. with the help of hammers and pull-offs.
You can work on this chords in licks 2 and 3.
To memorize your pentatonic scales, we recommend the website guitar-chords.org.uk which is very complete and free. The pentatonic scales are presented in the form of highly readable diagrams in all tones.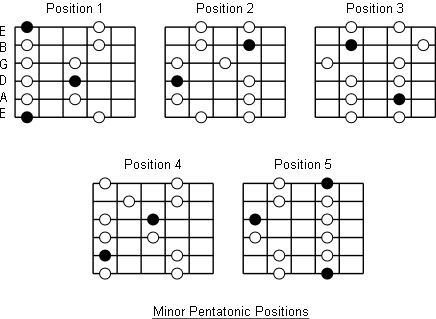 Find these scales (and many others) in Guitar Pro 7.5 by clicking on the menu Tools > Scales…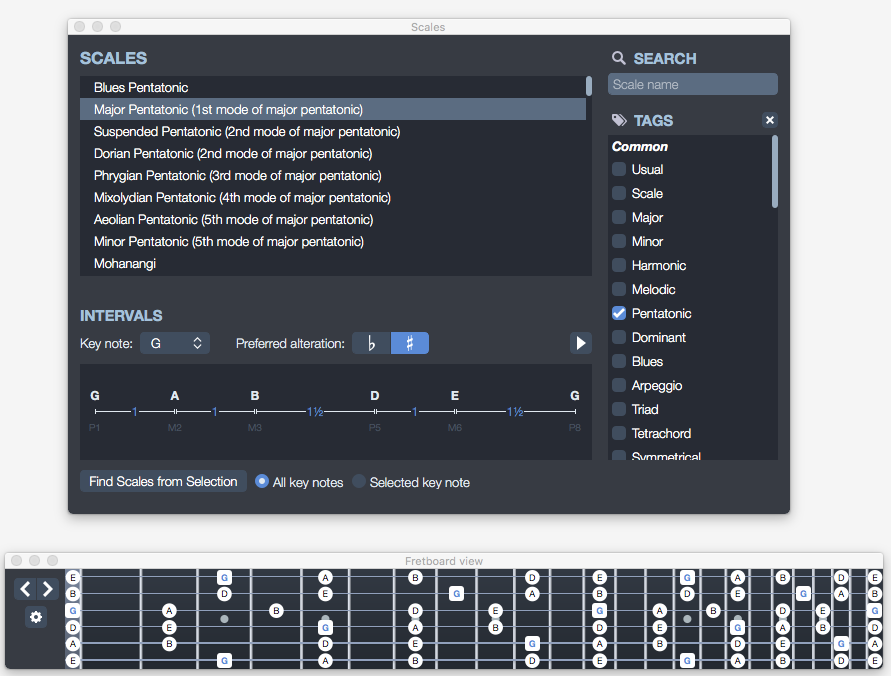 Finally, you have to choose your equipment carefully
Which guitar to choose?
Playing on a Stratocaster electric guitar is of course ideal even if Jimi Hendrix has played with many other models. The Reverb.com website has produced "A Short Guide to the Lesser-Known Guitars of Jimi Hendrix".
Which effect pedals?
To learn more about his pedalboard, you can read this excellent article available on Guitargearfinder.com.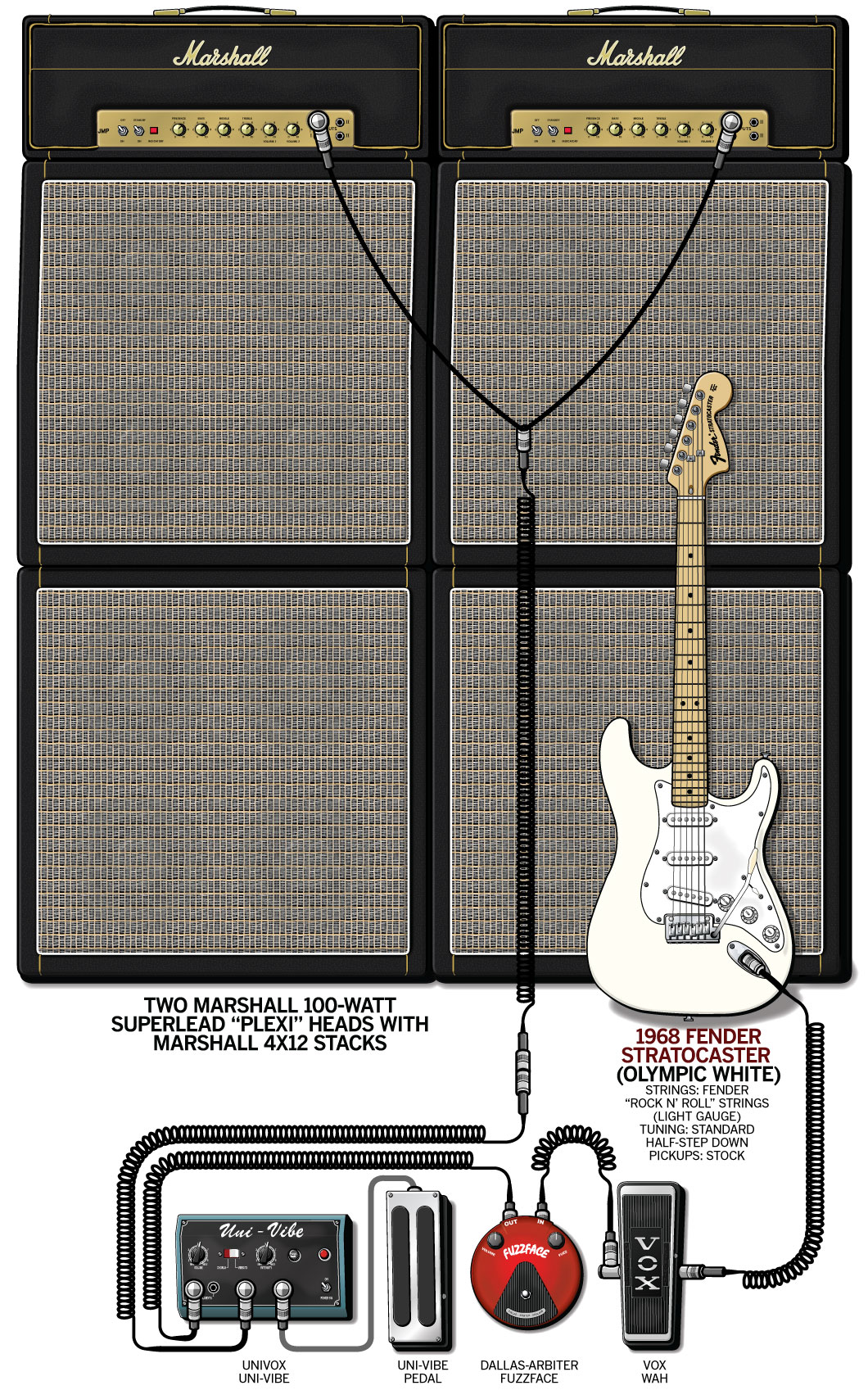 Finally, plug in your guitar with the "line-in" option of Guitar Pro and use Jimi Hendrix's signature sounds!
How to use Jimi Hendrix's sounds in Guitar Pro 7.5:
Signature
sounds are available in the
Track Inspector
(panel on the right-hand side of your Guitar Pro window) >
Sounds
section. Click on the sound name to display the list of sounds available and start using the signature sounds related to Jimi Hendrix.
For more explanations, read
our post
explaining signature sounds and
download here the complete list of signature sounds
available in Guitar Pro.
Signature sounds related to Jimi Hendrix in Guitar Pro:
12 STRING STEEL > Watchtower (All Along the Watchtower )
ELECTRIC CLEAN > Crosstown (Crosstown Traffic)
ELECTRIC CLEAN > Joe (Hey Joe)
ELECTRIC CLEAN > Wing (Little Wing)
OVERDRIVE GUITAR > Cries Mary (The Wind Cries Mary)
OVERDRIVE GUITAR > Sand (Castles Made of Sand)
OVERDRIVE GUITAR > Voodoo Wah (Voodoo Child)
DISTORTION GUITAR > Crosstown Fuzz (Crosstown Traffic)
DRUMS > Haze (Purple Haze)